Application for Retreat as Ceremony: Mindfulness and Indigenous Presence for Wellness and Healing, A Retreat for Indigenous Peoples
With Bonnie Duran (mixed race Opelousas/Coushatta) and Elvina Charley (Diné)
June 18 - 24, 2023
What you need to know :
open to all Indigenous Peoples (including folks from outside the Ute and Jicarilla Apache Territories) with special attention given to those who actively work inside Indian country
no prior meditation experience necessary
ceremony, talking circles, and periods of silent mediation will occur during this 6-night retreat
bedding, towels, and bath products provided
one shuttle from/to Albuquerque and Santa Fe provided
we do not want price to be a barrier to attend this retreat; the actual retreat cost is $840 and we offer a sliding scale structure so you choose how much you pay $0-$1,050 (to support others)
the remaining balance of your retreat fees are covered by dedicated scholarship funds; you do not need to submit a separate scholarship application
retreat fee and scholarship do not cover dana (financial support) offered to teachers at the end of retreat
have questions? See our FAQs for the IP retreat here or contact us
Our Community Organizer, Kelzi Montpetit (mixed race Kanien'kehá:ka and Anishinaabe), will be contacting applicants to review any questions.
This retreat is open to Indigenous people from around the world. 
This residential retreat will provide a conceptual framework and practice guidelines for Mindful "Indigenous Presence" meditation—a way of coming into harmony with the present moment and our world—and provides space for acceptance, and the cultivation of clarity, confidence, resilience and strength.
This practice maps the fundamental wellness-optimizing characteristics of Indigenous Ceremony onto the methods and outcomes of another ancient traditional expression of sacred presence, that of mindfulness and lovingkindness meditation.
This retreat will be instructional and experiential. Together we will explore the techniques of mindfulness/insight meditation and come to understand the strength-based and resilience optimizing characteristics of retreat as Ceremony.
This retreat will open and close with talking circles, and group practice meeting will be offered throughout the 5 full days. For most of the retreat, however, attendees will be entering into the practice of Wise Speech, and expected to abide by the retreat precept of "Noble Silence".
We all have two knowledge systems—
One knowledge system is conceptual and based on thoughts and ideas—we count things and name things, think about things and create ideas. Many of those ideas are based on greed, delusion and aversion.
Our second knowledge system; Intuitive/Wisdom Awareness, is where we go in Native Ceremony (Sun Dance, Sweat Lodges, NAC Meetings, etc). Intuitive awareness is not based on concepts, but rather lets mindfulness "collect" data as we objectively watch our thoughts, emotions, body sensations, etc, and allows wisdom to ripen and arise. This non-conceptual "insight" is a true source of healing and happiness for us all.
Reading and writing are discouraged. We will use this opportunity to go deep into "Intuitive awareness" to ripen insight and wisdom, to hear our ancestors and other helpers,  and to heal our historical and current suffering and ignorance.
APPLICATION PROCESS: Please note, the retreat has an application process to ensure a diverse indigenous community. Please use this page to apply to the retreat. Our first round of application review took place on March 20th. Our Community Organizer, Kelzi Montpetit (mixed race Kanien'kehá:ka and Anishinaabe) will be contacting those invited to join the retreat to answer any questions. After this date, we will continue to review new applications on a rolling basis until the retreat is full.
---
COVID Safety Measures: We require all guests to be fully vaccinated and boosted to attend. Please review our current COVID Safety Measures, which are subject to change. We are creating this web page in January and retreats will not begin until late May. We very much understand how much things can change between now and the start of our retreat season.  Our Medical Committee is actively and regularly updating our protocols. 
Teachers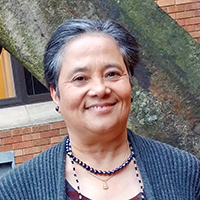 Bonnie Duran (mixed race Opelousas/Coushatta)
Bonnie Duran, PhD met the Dharma in 1982 when she sat a month in Nepal and learned Vipassana in Bodh Gaya India. Since then, she has taken teachings from many western teachers as well as Thai, Burmese, and Tibetan Monastic teachers. Bonnie attended the very first People of Color Mediation Retreat at Vallecitos decades ago and we are proud to have her sit on our Teachers' Council today. Bonnie is a core-teacher of the IMS Teacher Training Program, the SRMC Dedicated Practitioners Program and is on the SRMC Guiding Teachers Council. Bonnie teaches long and short retreats at IMS, Spirit…
Learn more about Bonnie Duran (mixed race Opelousas/Coushatta)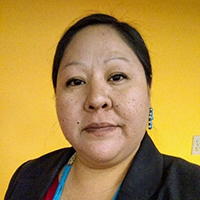 Elvina Charley (Diné)
Elvina Charley, Ed.S. is Diné (Navajo) school psychologist practitioner and integrates mindfulness as a part of serving children and youth. Charley has been practicing mindfulness since 2013, introduced to her by Bonnie Duran, Ph.D. as a way to heal from historical trauma. She found parallels between her Diné philosophy of life – Sa'ah naaghái bik'eh hózhóón and Buddhism. Charley continues to cultivate her practice through people of color retreat programs through the Insight Meditation Society and Vallecitos Mountain Retreat Center. Charley received training through Mindful Schools to bring back mindfulness to reservation schools.
Learn more about Elvina Charley (Diné)