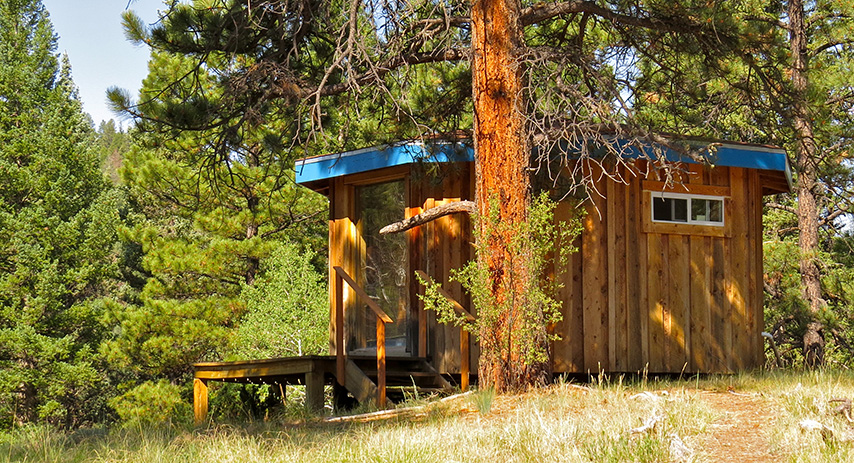 The Hermitage
In 1999, Vallecitos alumni generously funded the construction of the Vallecitos Hermitage meditation retreat cabin, a secluded cabin with a sunny south-facing deck that overlooks mountains, meadows and the Vallecitos River. The Hermitage is ideal for individuals and couples seeking a private setting for self-reflection.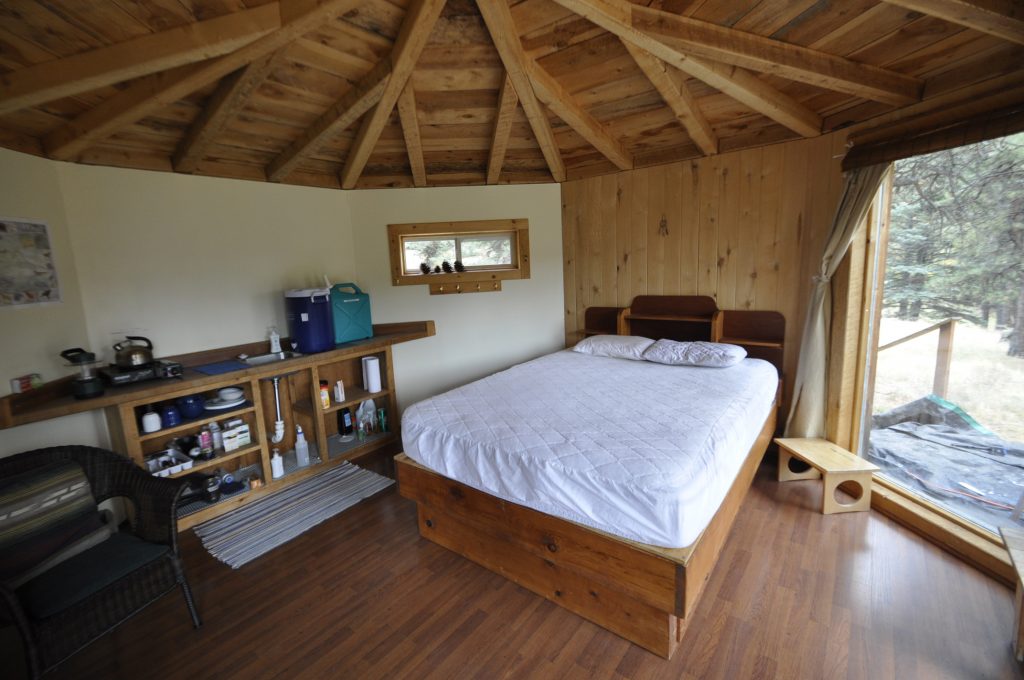 "I believe I am more reflective and have a stronger commitment to the daily practice of meditation. I have a renewed sense of enthusiasm for my work. Thank you very much for the privilege of experiencing the riches of Vallecitos."
– Cynthia Chavez
Booking Details 
The heated meditation retreat cabin is furnished with a queen bed, desk, chair, night stand, sitting cushion, drinking water and guests are welcome to keep a carafe of hot water in the hermitage. Basic items to make tea and rinse your dishes are available. Please do not store any food in the hermitage.
Hermits do not participate in group retreats, but do complete a short yogi job each day.
Noble silence is observed in and around retreat guests and facilities.
Shuttle service is available on a limited basis.
Reservations for our meditation retreat cabin are on a first-come, first-served basis, with the full fee due upon registration. Minimum three-night stay. No refunds for cancellations. Check in 2-4 pm and check out by 11 am.
Single occupancy: $155/night. Double occupancy: $205/night. Cost includes all meals and accommodations.
To learn more about attending a self-retreat, please read our Vallecitos Hermitage Information Packet.
PLEASE NOTE WE ARE NOT TAKING RESERVATIONS AT THIS TIME. 
CANCELLED FOR THE 2021 SEASON