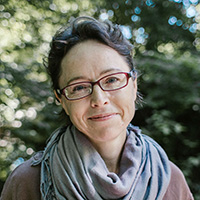 Kristy Arbon is the Founder and CEO of HeartWorks Training LLC, supporting people in their practice of self-compassion, mindfulness, somatic awareness, shame resilience and tapping into emergent self-wisdom. Her work has deep roots Trauma-Sensitive Mindfulness, Somatic Experiencing, Sensory Modulation, Brene Brown's shame resilience model, Mindful Self-Compassion, Internal Family Systems, Buddhist philosophy and exploration of archetypes.
Kristy is a qualified social worker, a certified Mindful Self-Compassion teacher, a qualified fitness instructor and she has completed Somatic Experiencing Level 1 and Internal Family Systems Level 1 training. She is the developer of the Somatic Self-Compassion curriculum and she adapted the Mindful Self-Compassion curriculum for the online environment.
She is passionate about supporting people in learning about old patterns of being that no longer serve them and transforming them into self-compassion practices so that they can go out into the world and courageously do the important work they are called for.
Kristy was born in Australia and has lived in the US for the last 15 years with her sweet American husband. She currently lives in St Louis, Missouri and Mylor, South Australia, teaching trauma-informed self-compassion in the US, Australia, New Zealand, Bhutan, Singapore, and online.