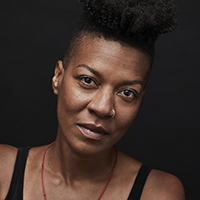 Booker brings her heart to the intersection of Dharma, Embodied Wisdom, and Liberation. She speaks nationally on expanding our vision around culturally responsive teaching, and changing the paradigm of self and community care. Throughout her career, Booker has contributed to the
advancement of her field both in theory and practice with NYC's most vulnerable populations and taking her practice off the cushion. She is a co-founder of the Yoga Service Council at Omega Institute and the Meditation Working Group of Occupy Wall Street. Booker is a co-author of
Best Practices for Yoga in a Criminal Justice Setting, a contributor to Georgetown Law's Center on Poverty and Inequality's report: Gender & Trauma—Somatic Interventions for Girls in Juvenile Justice, YOGA: The Secret of Life, and contributed to Sharon Salzberg's book 'Happiness at
Work'. In 2020 Booker graduated from Spirit Rock Meditation Center's 4 year Teacher Training, was a Sojourner Truth Leadership Fellow through Auburn Seminary, and was voted by her peers as one of the 12 Powerful Women in the Mindfulness Movement.