Finding Freedom in Nature: A Retreat for People of Color
With Sebene Selassie, La Sarmiento and Yong Oh
July 18 - 25, 2022
The teachings of the Buddha connect us to our own true nature which is freedom. We are nature wherever we go — whether we live in the heart of a large bustling city or in a rural environment — but many people of color in this country are often the most removed from land that is not ravaged by colonization. This retreat offers us an opportunity to experience the liberating power of retreat in the beauty of pristine nature. We will spend the week together in this magnificent wilderness in periods of formal practice both indoors and on group hikes. The retreat will be held largely in silence with opportunities for check-ins and questions. No prior meditation or dharma experience is necessary.
Please note, the application for this retreat is closed. For those who are invited to attend, we will email you by March 4th with a registration link to sign up for the retreat. If you are in need of financial assistance to attend, you will complete a scholarship application once you have been accepted AND completed your registration.
This is a retreat for people of color.  If you do not identify as a person of color, we are happy to help you find another Vallecitos retreat.
We require all people who visit the land to be fully vaccinated. We will require a copy of your vaccination card prior to arrival. Vallecitos reserves the right to modify, cancel or close at any time.
Teachers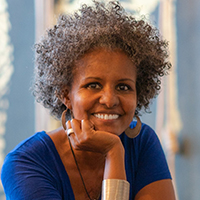 Sebene Selassie
Sebene Selassie is a teacher & author who guides people to remember and trust their belonging. Born in Ethiopia and raised in Washington DC, she began studying Buddhism 30 years ago as an undergraduate at McGill University where she majored in Comparative Religious Studies. She has an MA from the New School where she focused on race and cultural studies. For over 20 years, she worked with children, youth, and families nationally and internationally for small and large not-for-profit organizations. She teaches classes, workshops and retreats regularly and is one of the most popular teachers on the Ten Percent Happier…
Learn more about Sebene Selassie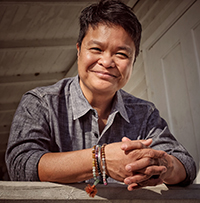 La Sarmiento
La has been practicing Vipassana meditation since 1998. They are IMCW's Board President the Guiding Teacher of the BIPOC and LGBTQIA+ Sanghas, a mentor for the Mindfulness Meditation Teacher Certification Program, a teacher with Cloud Sangha, and a contributor to the Ten Percent Happier app. La was the lead teacher for the Inward Bound Mindfulness Education Virginia Teen Mindfulness Retreats for 7 years. They completed the Spirit Rock Community Dharma Leader Training in 2012 and teach meditation retreats around the United States. As an immigrant, non-binary, Filipinx-American, La is committed to sharing teachings and practices that alleviate suffering, cultivate true…
Learn more about La Sarmiento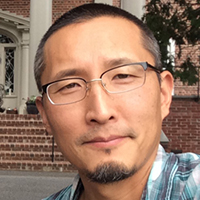 Yong Oh
Yong Oh began meditating through the Soto Zen tradition and eventually transitioned to study, practice and teach in the Insight tradition. Yong serves as a teacher on the Dharma Council for the Durango Dharma Center and has sat on the board of directors since 2019. He also teaches for the Chattanooga Insight Meditation group, and has taught retreats at Insight Meditation Society and Spirit Rock Meditation Center. Yong is a graduate of Spirit Rock's two-year Community Dharma Leaders program and the Sacred Mountain Sangha two-year Dharmapala training, taught by his primary teachers Kittisaro and Thanissara. He is also a graduate…
Learn more about Yong Oh