Gentle and Clear: Training for Our Unbinding
With Michele McDonald and Jesse Maceo Vega-Frey
July 17, 2021
The mind has learned to defend itself from the fragility of life through craving, anger, fear, and fantasy. How do we come to trust the deeper security provided by love and wisdom without demonizing the challenging patterns we encounter so often in our hearts? Join Michele and Jesse for a half-day meditation retreat where we will explore these dynamics and attempt to instill a sense of confidence in our path going forward – in the many fruitful ways that are possible. All are welcome!
1-5:30 Mountain (listed below) / 12-4:30 Pacific / 3-7:30 Eastern
1:00 – 2:00 – Opening and Sit w/ instructions
2:00 – 2:30 – Walk
2:30 – 3:15 – Sit
3:15 – 4:00 – Dhamma Talk
4:00 – 4:30 – Walk
4:30 – 5:00 – Q&A
5:00 – 5:30 – Sit and close
***We will provide recorded morning instructions for those wishing to sit a full day.***
Teachers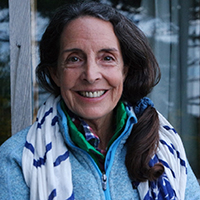 Michele McDonald
Michele McDonald has taught Insight meditation since 1982, teaches extensively throughout the United States, in Canada, Burma, and various locations around the world. Michele has been a quiet pioneer having being the first woman to teach a formal retreat in Burma, side-by-side with a senior monastic figure, Sayadaw U Lakkhana, Abbot of Kyaswa Monastery. Having worked with a wide range of Asian and Western teachers, Michele is most inspired by her practice with Dipa Ma and Sayadaw U Pandita and more recently in Burma with the Mya Taung Sayadaw. She appreciates teaching at many levels of practice and has enjoyed teaching…
Learn more about Michele McDonald
Jesse Maceo Vega-Frey
As a teacher of Vipassana (insight) meditation and other meditation practices from the Theravadan Buddhist tradition, Jesse aims to inspire the skills, determination, and faith necessary to realize the deepest human freedom. He is a student of Michele McDonald's and was trained and authorized by her to teach. His approach is rooted in the tradition of Mahasi Sayadaw of Burma and encourages an exploration of the relationship between ethics, insight, and action. He is the resident teacher forVipassana Hawai'i and when off-island teaches mostly in the US and Canada.
Learn more about Jesse Maceo Vega-Frey