-Reclamation of the Sacred: A Special Benefit at the Durango Dharma Center
With Thanissara and Kittisaro
May 31, 2020
We invite you to gather together for this special daylong to uplift and celebrate the sacred within Mother Nature and all life. 
These days, as climate crisis looms over all of us, we are called to bring forth a response beyond the habitual business-as-usual. We are called to look not only to solutions, but also at the causes that have brought us to such a tipping point. 
In Dharma practice we contemplate cause and effect, and understand that the root of disharmony, and all oppression arises from the mind itself. "Mind" as the Buddha said, "is the forerunner of all things." And so it is to Mind – Citta, heart/mind/conscious knowing – that we must return. 
In essence, our multiple world crises are the manifestation of a crisis of consciousness. Therefore, the primary task before us is a movement from separative consciousness, experienced and acted out as chronic "othering," to a direct realization of the profound "intimacy of all things" or unitive consciousness. 
It is at this inner level, that Dharma can intersect with the emergence of a new vision for our wounded world, with its potential to inform our way forward — enabling each of us to embody clarity, wise reflection, and compassionate inclusion. 
Join us for a day of contemplation, Dharma talks, chants, qi gong, and a Kuan Yin Compassion Ceremony, dedicated to the healing of old injustices and the restoration of the sacred. In the evening, Thanissara and Kittisaro will host a limited-seat dinner with a "question and answer" period at the Himalayan Kitchen. Dinner and daylong tickets may be purchased together or separately.   
This special daylong is offered as a benefit to support the first retreat at Vallecitos for Indigenous Peoples of Turtle Island. This groundbreaking retreat is an acknowledgement and gesture towards reparative justice. Through recognizing the land at Vallecitos as Jicarilla Apache and Ute land, it is the sacred intention of Vallecitos, to honor this deep moral imperative by offering this sacred space for Indigenous Peoples' healing meditation and ceremony.
Teacher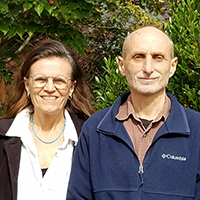 Thanissara and Kittisaro
From a London Anglo-Irish family, Thanissara started Buddhist practice in the Burmese school in 1975. She was inspired to ordain after meeting Ajahn Chah and spent 12 years as a Buddhist nun where she was a founding member of Chithurst and Amaravati Buddhist Monasteries. She has facilitated meditation retreats internationally the last 25 years and has an MA in Mindfulness-Based Psychotherapy Practice from Middlesex University & the Karuna Institute in the UK. Thanissara is co-founder of Dharmagiri Sacred Mountain Retreat, South Africa and has authored several books. Her most recent is Time To Stand Up, An Engaged Buddhist Manifesto for…
Learn more about Thanissara and Kittisaro