The Wisdom of No Technology: Beyond our screens, the natural world and our deepest nature await.
With Dyanna Taylor and Don Usner
August 26 - September 1, 2020
While trying to give the best to our work and personal lives, we often find ourselves facing a tangle of unrelenting demands compounded by the distraction of technological devices that hijack our attention.  This retreat offers a pause—breathing space—and a chance to turn away from our computers, cameras, and not-so-smart phones, to recharge our capacity to create, and return to the roots of perception and inspiration.
During early morning sits, extended day saunters, and quiet explorations, we will find the path back to what truly guides our lives.  We'll pack lunches and head out from the lodge to spend full days, unhurried, in spacious meadows that edge the crystal clear Vallecitos River, in forests, among elk, wild horses, and giant pines.  Together we'll sharpen our senses, expand our awareness, and engage with this remote landscape by reveling in its mysteries and learning about its natural history.  We will also take time to quiet observation, write (with pencil and paper!), and relish languorous time alone.  In the evenings we'll enjoy delicious meals and relaxed conversation as we hear from each other and explore what manifests when we take time away from the demands and over-stimulation of contemporary life.
Rediscover your extraordinary senses.  Drink in the depths of the night sky and the peace of a pristine mountain valley.  Let the late summer alchemy of New Mexico's wild Tusas Mountains guide and restore your inspired self.
This is not a silent Buddhist retreat. Periods of silence and solo time will balance with engaging conversation as we consider the revitalizing and creative possibilities that arise when free from our high-tech tools and toys and the clamor of our busy lives.
This rare "time out" is open to all professionals, creatives, students, artists and educators.  Disconnect from your devices and reconnect.  Join us for the 9th annual Wisdom of No Technology retreat.
Teachers

Dyanna Taylor
Dyanna Taylor has co-led media/film and unplugged retreats for twelve years and for the last eight co-led the Wisdom of No Technology retreats at Vallecitos.  A film director and veteran cinematographer for 39 years, she brings a uniquely personal angle for guiding this retreat.  The combination of her career in the film business with its personal and creative demands, her twenty nine year Buddhist practice, a year alone in an off-the-grid cabin on California's coast and varied powerful wilderness experiences becomes the inspiration for this retreat.  Dyanna's accomplishments on hundreds of films for clients in features, documentaries, and television garnered…
Learn more about Dyanna Taylor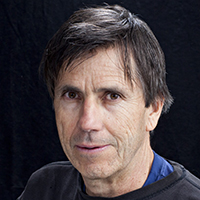 Don Usner
Don Usner, a thirteenth-generation New Mexican, grew up in the midst of one of North America's most striking natural and cultural landscapes, where he developed a passion for the natural world and for diverse cultures. He studied Biology and Environmental Studies at the University of California at Santa Cruz. Usner's affinity for photography was greatly nurtured there and during his subsequent tenure on an ecological reserve in Big Sur, where he lived and co-authored his first book, The Natural History of Big Sur. Don returned to New Mexico to earn an M.A. in Cultural Geography and to write Sabino's Map:…
Learn more about Don Usner