Affectionate Awareness as a Path to Liberation
With Michele McDonald and Jesse Maceo Vega-Frey
August 1 - 14, 2020
During this intensive silent retreat, participants will learn to develop their heart's capacity for liberatory clarity and pervasive tenderness with a unique integration of Vipassana (insight) and Metta (lovingkindness) practices. Michele and Jesse are enthusiastic about supporting yogis with a depth of both technical rigor and spacious ease.
Yogis will be supported by daily instruction periods with time for questions and answers, individual interviews with both teachers, nightly dhamma talks, a vigorous schedule of sitting and walking meditation, as well as free time in the afternoons to silently explore the beauty of the landscape on their own.
Come experience the richness of quietude in the beautiful Vallecitos wilderness while cultivating the wisdom of Vipassana and the tenderness of the four Brahma Viharas: Unconditional Love, Compassion, Appreciative Joy, and Equanimity.
Teachers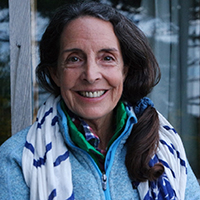 Michele McDonald
Michele McDonald has taught Insight meditation since 1982, teaches extensively throughout the United States, in Canada, Burma, and various locations around the world. Michele has been a quiet pioneer having being the first woman to teach a formal retreat in Burma, side-by-side with a senior monastic figure, Sayadaw U Lakkhana, Abbot of Kyaswa Monastery. Having worked with a wide range of Asian and Western teachers, Michele is most inspired by her practice with Dipa Ma and Sayadaw U Pandita and more recently in Burma with the Mya Taung Sayadaw. She appreciates teaching at many levels of practice and has enjoyed teaching…
Learn more about Michele McDonald
Jesse Maceo Vega-Frey
As a teacher of Vipassana (insight) meditation and other meditation practices from the Theravadan Buddhist tradition, Jesse aims to inspire the skills, determination, and faith necessary to realize the deepest human freedom. He is a student of Michele McDonald's and was trained and authorized by her to teach. His approach is rooted in the tradition of Mahasi Sayadaw of Burma and encourages an exploration of the relationship between ethics, insight, and action. He is the resident teacher forVipassana Hawai'i and when off-island teaches mostly in the US and Canada.
Learn more about Jesse Maceo Vega-Frey