Returning to Nature: A Retreat on the Four Elements
With Anandabodhi Bhikkhuni and Jaya Rudgard
July 14 - 20, 2018
The Buddha frequently recommended practice out of doors, encouraging us to enter the world where tranquillity and silence are so readily available. As our society becomes increasingly speedy and noisy, separating us further from our true nature, this recommendation could not be more appropriate. Drawing on the rich resources of Vallecitos' stunning natural surroundings, we will participate in this age-old tradition of turning towards nature as a support for spiritual practice.
The focus of our practice together will be the on Four Elements – earth, water, fire and wind. While we are all familiar with these qualities in the external world, we can miss the play of them within our own body and mind and so miss the profound teaching that is pointing to a place of freedom and letting go.
Throughout the retreat meditation guidance and Dharma teaching will be offered on this theme as well as times of silence and opportunity for discussion. Through our practice and contemplation and the support of the natural world, we will create an opportunity for deeper insight to arise into the true nature of what we take to be "me" and "mine". There will be guided sitting, walking and standing meditations as well as unguided ones and optional daily qi gong.
This is a very special opportunity to sit with a monastic. Guests will have the option to take 5 or 8 precepts. A light evening meal will be offered as part of that option.
Teachers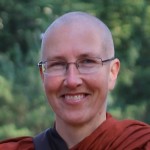 Anandabodhi Bhikkhuni
Ayya Anandabodhi first encountered the Buddha's teachings in her early teens, igniting a deep interest in the Buddha's Path of Awakening. She lived and trained as a nun in the Forest Tradition at Amaravati and Chithurst monasteries in England from 1992 until 2009, when she moved to the US to help establish Aloka Vihara, a training monastery for women. Her practice and teaching are guided by early Buddhist scriptures and through nature's pure and immediate Dhamma. In 2011 she took full Bhikkhuni Ordination, joining the growing number of women who are reclaiming this path given by the Buddha.
Learn more about Anandabodhi Bhikkhuni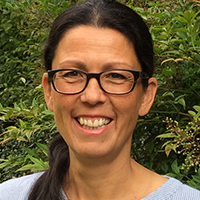 Jaya Rudgard
Jaya Rudgard began practising over thirty years ago and was a nun in the Thai Forest tradition in the UK from 1996-2005, with Ajahn Sumedho. A graduate of the IMS/Spirit Rock four year teacher training, she teaches retreats, courses and classes in the UK and internationally. Jaya is also an experienced teacher of the mindfulness modalities of MBSR, MBCT and Mindful Self-Compassion. Perhaps reflecting her Anglo-Chinese heritage, she loves the hands-on work of translating the dharma from one culture to another, and from one heart to another, and working with as wide a range of students as possible. She lives…
Learn more about Jaya Rudgard