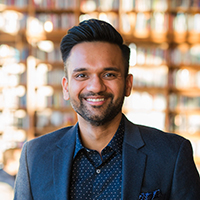 Anu Gupta is a lawyer, scientist, educator, and the Founder of BE MORE with Anu. He developed BE MORE's science-backed method by applying existing neuroscience and organizational psychology to 15 years of original research on the causes of and solutions to organizational diversity, equity, inclusion, and belonging (DEIB) challenges.
A peer-reviewed author and the principal investigator behind BE MORE's research, Anu is a sought-after expert in DEIB, mindfulness, and breaking bias. He has written and spoken extensively, including on the TED stage, the Oprah Conversation, Fast Company, and Newsweek.
Anu worked as an attorney, a research scientist, and a teacher in the United States, Europe, and Asia, prior to founding BE MORE. He has logged over 10,000 hours of meditation and is a trained mindfulness and yoga teacher (500-hours). His meditations can be found on the Insight Timer, Open, and the Ten Percent Happier meditation apps.
Anu serves as a Systems Designer for Penn State Dickinson Law's Antiracist Development Institute (ADI). He obtained his JD from NYU Law, where he was a Root-Tilden Scholar, an MPhil in Development Studies from Cambridge University, and a BA in International Relations & Islamic Studies from NYU. Follow him across all social channels @bemorewithanu