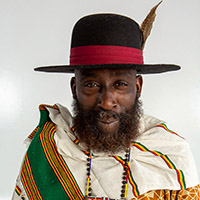 Hakim Tafari is originally from the UK and currently resides in the Los Angeles area. In the mid 1990s, after an injury and illness that led him to acupuncture, he was introduced to a life of mindful movement and herbal medicines that helped him to adopt a lifestyle that supported his wellbeing. For over 20 years Hakim has been practicing martial arts, specializing and sharing the practice of Tai Chi Chuan and Qi Gong. He has also become vastly skilled in Eastern bodywork of Shiatsu/Thai Yoga Massage and the Five Element Theory.
Among other expertise, Hakim is a Buddhist Dharma practitioner and meditation facilitator blending his meditative practice with street and trail running. He shares how the practice of running and mindfulness blends and offers a place of refuge for those seeking more peace and balance in their lives. Also, in the last few years Hakim has added cycling and finding great passion in the space of Jiu Jitsu. Hakim's mission has focused on using these practices to bridge an intersection between mindfulness sports and social justice.
All in all, his deep learnings and practices in Eastern medicine have propelled his influence with people all over the world. As a social activist promoting wellbeing, movement and natural medicines, Hakim uses his experience of mindfulness and social awareness to support his friends, family, and community at large. He believes that the essence of mindfulness is not only something to be practiced for the self, but for those seeking to walk (or run) a path of non-judgement, non-ego, and compassion for the greater good of all beings.