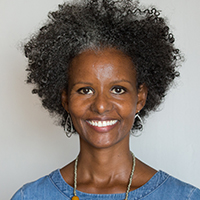 Sebene Selassie is a dharma teacher and transformational coach. She began studying Buddhism over 25 years ago as an undergrad at McGill University where she received a BA in Comparative Religious Studies and Women's Studies. Sebene is a graduate of the Community Dharma Leader (CDL4) program at Spirit Rock and continues her training with Thanissara and Kittisaro. She is the former Executive Director of New York Insight Meditation Center and serves on the board of the Barre Center for Buddhist Studies and the leadership council of Sacred Mountain Sangha. Sebene is passionate about making the dharma accessible and relevant for our times and teaches regularly in New York City and nationally.
Events with Sebene Selassie
Belonging, Connection and Nature: Coming Home Together
June 27, 2019
This retreat emerged from the relationship between its teachers as a result of many years of being together in dharma practice, teaching, and spiritual friendship. And this retreat invites the participants into relationship — with themselves, each other, the land, and all beings everywhere without exception. Awakening from the delusion of separation through practice and inquiry we will explore belonging , connection and nature to reveal what supports us in coming home to our hearts, coming home to interdependence. Grounded in foundational Dharma teachings, we will offer traditional sitting and walking instruction as well as daily opportunities to practice in wild nature…
Meditation Retreat for People of Color
July 3, 2019
In many traditions, people journey into the wilderness for contemplation and purification. How often do we have the opportunity to connect to our deepest intentions and to experience spiritual renewal? Taking place at 9,000 feet in beautiful meadowland in New Mexico, the Vallecitos People of Color Retreat is designed to offer and support a practical introduction to insight meditation (vipassana). Meditation embodies the essence and wisdom of the teachings of the Buddha and has been the foundation of Buddhist teachings for 2,500 years. It is a simple and direct practice. Meditation is extraordinary in its simplicity, its lack of dogma…
Trusting in the Natural Process of Body, Heart & Mind
September 2, 2019
In this retreat, we will have a week to explore cultivating ease and natural awareness. Alexis will be bringing his years of study and practice with Sayadaw U Tejaniya. Sebene will be bringing an orientation to embodied awareness that emphasizes our profound connection to land and nature. There will be periods of formal practice both indoors and on group hikes while allowing for plenty of non–structured periods of personal practice. The retreat will be held largely in silence with opportunities for relational practices towards the end of the week. No prior meditation or dharma experience is necessary.