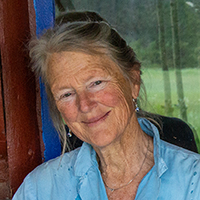 Dyanna Taylor has co-led media/film and unplugged retreats for twelve years and for the last eight co-led the Wisdom of No Technology retreats at Vallecitos.  A film director and veteran cinematographer for 39 years, she brings a uniquely personal angle for guiding this retreat.  The combination of her career in the film business with its personal and creative demands, her twenty nine year Buddhist practice, a year alone in an off-the-grid cabin on California's coast and varied powerful wilderness experiences becomes the inspiration for this retreat.  Dyanna's accomplishments on hundreds of films for clients in features, documentaries, and television garnered her the MUSE lifetime achievement award from New York Women in Film and Television, a Peabody, and three daytime Emmys.  In 2018-2019 Dyanna filmed in China as the Scenic Unit Director for the Disney film MULAN – releasing in March 2020.   Her film Vanished!! explores our relationship with memory while we encounter the natural world, and her film for PBS American Masters:  Dorothea Lange: Grab A Hunk of Lightning is touring internationally.
Events with Dyanna Taylor
The Wisdom of No Technology: Beyond our screens, the natural world and our deepest nature await.
October 1 - 8, 2022
While trying to give the best to our work and personal lives, we often find ourselves facing unrelenting demands and the distraction of technological devices that hijack our attention.  This retreat offers a pause—breathing space—and a chance to turn away from our computers, cameras, and not-so-smart phones, to recharge our capacity to create, and return to the roots of perception and inspiration. During early morning sits, extended day saunters, and quiet explorations, we will find the path back to what truly guides our lives.  We'll pack lunches and head out from the lodge to spend full days, unhurried, in spacious…