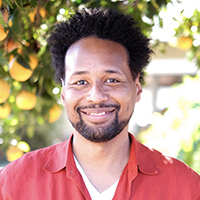 Jozen Tamori Gibson (they, them) began formal meditation practice in 2004 through Sotō Zen
while living in Japan joined by a Theravada practice in 2010. Jozen is a participant in the
2017-2021 Insight Meditation Society ( IMS ) Dharma Teacher Training program and serves on
the New York Insight Meditation Center's teacher council. With certifications and embodiment
studies in Yoga, Qigong, Indigenous Focusing Oriented Therapy ( IFOT ) and Complex Trauma,
Jozen lives to provide and nourish contemplative mind-heart-body alignment practices and
spaces rooted in wellness, anti-oppression and interdependent liberation for all beings. Jozen
honors the wisdom and compassion of all teachers, highlighting their mother, Akimi, and
dharma root teacher, Pamela Weiss.