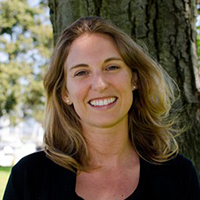 Kate Munding sits on Spirit Rock Meditation Center's Guiding Teacher Council and is the guiding teacher for Assaya Sangha, a women's Buddhist meditation community based in the San Francisco East Bay.
In addition to her Dharma teaching, Kate has been a mindfulness educator in schools since 2008. She has developed multiple mindfulness curriculums for the classroom and provided professional training to thousands of educators and mindfulness teachers who want to bring mindfulness-based curricula to kids. Kate's current focus is now on bringing mindfulness to parents and educators raising neurodivergent children.
When she's not teaching, Kate loves being mom to her young son. She lives with her family in the San Francisco East Bay.